President Donald Trump talked to "Fox & Friends" about the missing Washington Post journalist Jamal Khashoggi and the possibility of Saudi Arabia's involvement, telling the show's hosts, "I don't like it at all."
"Well, we're looking at it very, very seriously. I don't like it at all. Now, you don't have American citizens, but that, in this case, doesn't matter. I don't like it. I don't like it with respect to reporters. It is a terrible, terrible precedent. We can't let it happen," said Trump.
"And we're being very tough, and we have investigators over there, and we're working with Turkey, and frankly, we're working with Saudi Arabia. We want to find out what happened. He went in and doesn't look like he came out. It certainly doesn't look like he's around."
Khashoggi is a prominent Saudi journalist who was living in a self-imposed exile. He entered the Saudi Consulate in Istanbul on Oct. 2 and has not been seen in public since. The Washington Post on Wednesday reported that U.S. intelligence intercepts, according to U.S. officials familiar with them, reveal that Saudi Crown Prince Mohammed bin Salman ordered an effort to lure Khashoggi back to his home country.
Turkish authorities indicated that Khashoggi might have been a target because he was critical of the repression of Saudi citizens under Mohammed.
Host Brian Kilmeade pressed Trump on what Khashoggi's disappearance will do to U.S.-Saudi relations.
"I would say they're excellent," said Trump before going on a tangent. "I've told them they have to pay for their military. Saudi Arabia is a very rich country. For years and years … There wouldn't be a Saudi Arabia without the United States, because we've protected them. We don't get paid for this protection. We should be paid. We spent billions and billions of dollars a year protecting Saudi Arabia. I've told the king, King Salman, 'Sorry. You've got to pay.'"
Kilmeade interjected to say, "But you can't be killing Americans. You can't be killing Washington Post journalists. Is everything in jeopardy now, sir? Is that in jeopardy now, our good relations with Saudi Arabia?"
Trump replied that he has to "find out what happened" and that "we're probably getting closer than you might think."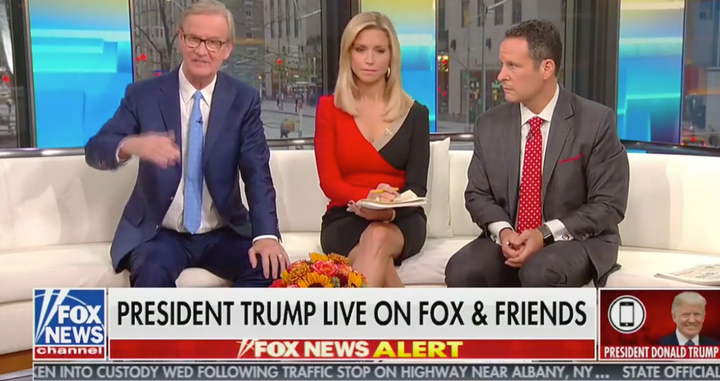 Co-host Steve Doocy brought up the report that Mohammed ordered Khashoggi's return to Saudi Arabia and told Trump, "That sounds like it goes right to the top, Mr. President."
Trump responded, "That would be a very sad thing, and we'll probably know in the very short future." 
"We have incredible people and incredible talent working on it. We don't like it. I don't like it. No good," he added.